Beautiful & Versatile Space
Little Rangers Club is based in the premises of Bukit Batok Civil Service Club, nestled within an oasis of lush greenery. A haven for young kids, our indoor air-conditioned space offers a myriad of exhilarating experiences designed to ignite curiosity, foster creativity, and nurture active minds.
At the core of our offerings lies a fun kids' agility gym, where children can explore and conquer exciting challenges, enhancing their physical abilities while having a blast.
In partnership with Lucas Aviation, Little Rangers Club is also proud to offer a series of flying exposure programmes to take young minds soaring to new heights. 
Our versatile space can be transformed to house multi-sports, fitness, and dance classes as well as birthday parties and events.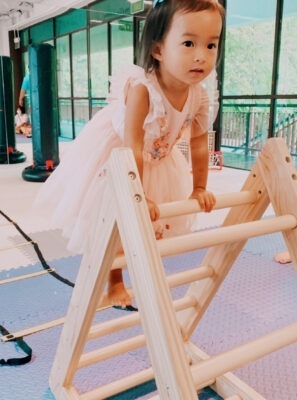 Our weekly agility gym classes are a good opportunity for young children to explore fundamental body movements in a safe and comfortable environment. Active Tots Gym Classes are a great way for kids to discover their potential, build confidence and reach developmental milestones while enhancing physical, cognitive and social skills. Lessons are structured to focus on agility, balance, flexibility as well as building meaningful connections through games, story-telling, music & movement and sensory art.
Classes are split into two age groups: 1-3 years (parent-accompanied) and 4-6 years (independent).
All classes are conducted by trained instructors to ensure the safety and well-being of the young children.  
Flying Exposure Programmes
Our flying exposure programme (in partnership with Lucas Aviation) promises to take young minds soaring to new heights with cutting-edge flight simulator experiences, allowing children to imagine themselves as daring aviators navigating the skies. Moreover, we also offer comprehensive drone courses, nurturing an early interest in technology and aviation, providing a safe space for young learners to hone their creativity and spread their wings in the world of aviation robotics.
The Little Rangers Club is your ultimate destination for unforgettable kids' birthday parties! We're all about turning special moments into extraordinary memories. Our spacious and versatile indoor setting serves as an ideal venue for birthday parties and events.
We understand that every child is unique, which is why we offer a variety of party entertainment activities tailored to different age groups, from kid's agility fitness and sports programmes for toddlers and young kids to simulator flight experiences and DIY drone building and racing for kids age 6 and up!
At Little Rangers Club, we believe that birthdays are more than just a day – they're a chance for children to shine, laugh, and create memories that last a lifetime. Join us for a one-of-a-kind party experience that sparks imagination, fosters friendships, and celebrates the amazing young adventurers in your life.
Book your child's dream birthday party with us today and let the fun take flight!