Beautiful & Safe Play Space
Little Rangers Club is based in the premises of Bukit Batok Civil Service Club, nestled within an oasis of lush greenery. Our air-conditioned space houses a toddler-friendly play space and a kids agility gym, suitable for children age 1-6 years. We also use the space to run dance and fitness classes as well as kids birthday parties, events and workshops!
Toddler-Friendly Play Space
Little Rangers Club offers a series of parent-accompanied classes and open play exploration sessions for children aged 1-6 years old. Our unique programmes are specially crafted to suit the needs of young children, giving them an opportunity to discover and explore a variety of sensory elements and experiences – vital to their early years. 
Our air-conditioned reggio-inspired play space is thoughtfully designed to ensure natural light flows through, along with carefully curated equipment and elements that reflect a calm and beautiful space. We hope to inspire play, creativity, discovery, exploration and put families at ease in the comfort of our safe space. Come on by and say Hi! 
Our play space is open Tuesdays – Saturday from 9.30am to 3.30pm, inclusive of Public Holidays. Sundays are reserved for classes and birthday parties bookings. We are closed on Mondays.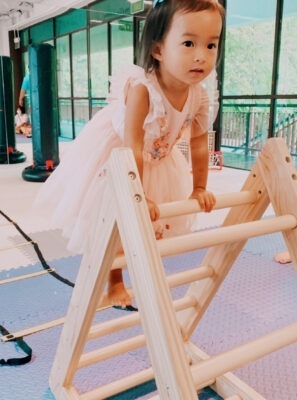 Our weekly agility gym classes are a good opportunity for young children to explore fundamental body movements in a safe and comfortable environment. Active Tots Gym Classes are a great way for kids to discover their potential, build confidence and reach developmental milestones while enhancing physical, cognitive and social skills. Lessons are structured to focus on agility, balance, flexibility as well as building meaningful connections through games, story-telling, music & movement and sensory art.
Classes are split into two age groups: 1-3 years (parent-accompanied) and 4-6 years (independent).
All classes are conducted by trained instructors to ensure the safety and well-being of the young children.  
Looking for a space to host your child's birthday party or a private mummies get together? Our play space is the perfect party venue for young children! We've got special party packages for birthdays, events and more! Drop us a note and we'll be happy to chat!