Here at our Little Rangers Club, our mission is to equip children with valuable essential and practical life skills that will benefit them throughout their entire lifetime. We challenge them with goals to acquire skills and abilities that are needed to succeed in life. Our discovery and skill learning programmes engages a holistic curriculum that is child-led. It allows children to learn more about themselves, build healthy social relationships, encourage emotional development, instil a sense of discipline and more.
With youth mental health being highlighted as one of the key issues in Singapore, we hope to use our discovery and skill learning programmes as a healthy coping mechanism and reach out to those who need help.
Experiences that children receive in the early years of their life are very crucial to how their brain develops. These skills and values learnt will transform their behaviours into lifelong habits. Little Rangers' concept is to expose children in our club to intellectual and physical stimulation at a young age, thus increasing the potential of them to achieve more as they mature.
Little Rangers Club provides a platform to enhance the growth and development of your child, while giving them the opportunity to discover and nurture their passion and interest in sports and fitness activities. For your convenience, we have a variety of programmes running during the week with locations in the North, South, East and Western parts of Singapore.
Our intention is not to train children to be the next top sports professional, but to provide them with multiple different exposures to a wide spectrum of sports and fitness activities. With this, children are given the opportunity to discover their individual talents or interests before pursuing their favourite sport(s) at a higher level
Little Rangers Club Life Long Membership at just $75 per child
Little Rangers Club
Discovery Programs (1-6years)
Toddler Free Play &
Open Exploration
Free play and exploration is a great way to encourage young children to initiate their own play without adult instruction. This gives kids an opportunity to practice autonomy and control, fostering independence and taps into a child's curious and creative mind.

Our sessions are flexible, so families can drop in any time at their convenience and stay for as long as they wish.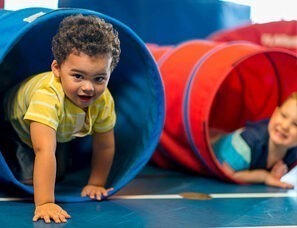 Active Tots
Gym Classes
Roll, Jump, Climb, Crawl, Balance and Stretch! Active Tots Gym Classes are structured to focus on agility, balance, flexibility as well as fundamental movement skills in young children.

With the addition of fun games, story-telling, music & movement and sensory play - children are exposed to a variety of different elements, giving them the opportunity to discover their potential and build meaningful social connections.
Outdoor Fitness Agility Classes
Our outdoor fitness classes are a combination of games, multi-sports and agility courses aimed at developing fundamental movement skills in young children.

It is crucial that young kids get out in the sun for their daily dose of vitamin D, what better way to do it than with a series of fun sporting activities and agility courses that help encourage kid's physical movement and mental stimulation as well as build confidence, situational awareness and meaningful social connections.
Little Rangers Club
Skill Learning Programs (3-13years)
Flex Fitness
Developing a good physical foundation from a young age is important in enhancing healthy growth and development. Adequate muscular strength allows children to deal with the demands of daily life without excessive stress on their joints and muscles. Besides the obvious health benefits, children will also learn how to manage physical and emotional challenges better.

Flex Fitness will focus on training up the child's endurance, strength and agility.
Make A Splash
More than water confident, that's what our Make-a-Splash programme is designed for. We want to boost a child's water confidence through various water sports, apart from just basic swimming. Through water sports exposure such as snorkelling, scuba tryout sessions, stand up paddling and kayaking, we will focus on developing motor skills that help kids learn balance and sense motion, increase their situational awareness and also train their breathing techniques.

Make A Splash will focus on building up the child's water confidence through the exposure of various water sports, water safety and motor skills.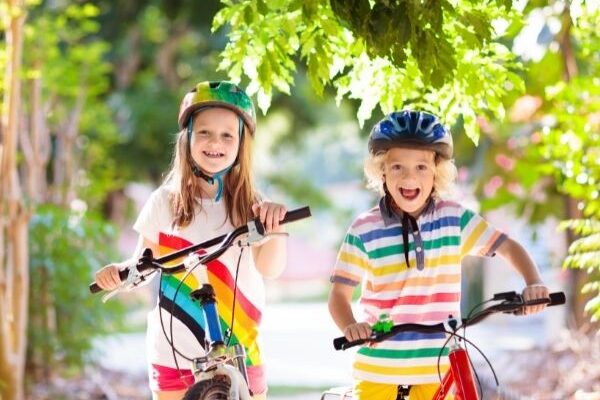 Fun On Wheels
Not only will we teach your child how to ride a bicycle, roller blade and longboard, we will also train them to be competent in handling themselves and the equipment safely. Fun On Wheels not only improves physical fitness but also enhances your child's learning development and mental health. We aim to boost the child's self-confidence and train them to be aware of their body and surroundings.

Fun On Wheels will focus on training the child's balance, coordination, endurance and responsibility.
Ball-In-One
Team-focused ball sports can provide a ton of developmental benefits for children. It requires hand-eye coordination, fine motor skills, awareness, balance, team work and social skills. Engaging in ball sports encourages the fostering of relationships between children, improving their social skills. Ball-In-One aims to expose children to a wide variety of team ball sports, some of which are lesser known and seldom taught during regular school PE lessons. Examples include pickle ball, kin ball, dodge ball and more.

Ball-In-One will focus on building the child's character, encourage strategic thinking, situational awareness and social skills.
Outdoor Survival
Survival skills are techniques that a person may use in order to sustain life in any type of natural or built environment. It is typically essential in instilling confidence, awareness, determination and using creative problem-solving skills under pressure. Children who adopt survival skills are usually more confident, empowered people who will excel in life, no matter what life throws their way. They are problem-solvers who are able to think outside the box. Our Outdoor Survival program will focus on instilling confidence, awareness, determination and challenging children to use creative problem-solving skills under pressure while enjoying a closer bond with the nature.

Outdoor Survival will focus on skills such as map reading, knot tying, starting a fire safely, orienteering, first aid knowledge and more.
Nature Explorer
Take time to soak in nature, detox from the stresses of our urban environment and really just enjoy the wonderful relaxing benefits it brings. Just being in nature inspires children's imagination and encourages them to let loose and freely play. We believe that some sunshine, plants, fresh air, and some dirt boosts the immune systems of our children, allowing them to grow up strong and healthy. Our nature explorer program provides children with a safe space to play, explore, learn and connect socially as well as respectfully with the surrounding environment and life around them.

Nature Explorer will focus on building the child's character, respectful living and learning in nature.