Make A Splash
Private Classes
Our series of Make A Splash private classes will focus on building up your child's water confidence through the exposure of various water sports, water safety and motor skills.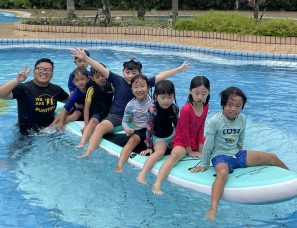 Stand Up Paddling
Kids will learn about water safety and how the SUP equipment works. They will get the opportunity to set up their own equipment, pump their boards, learn basic safety rules, practice their balancing skills before going onboard and paddling in the waters. Our lessons are conducted first in a swimming pool to ensure kids are comfortable before taking them out to sea. A life jacket will be worn at all times, to ensure that the child's safety. Definitely a fun session for those who want to try something different!
Introduction to Scuba Diving
Our junior bubble maker course is held within the safe confines of a swimming pool so kids feel confident and comfortable. They will get the opportunity to learn about scuba diving gears, how to safely use them and also perform water confidence drills with them in the waters. From mask clearing, to buddy breathing and even learn various techniques and skills while moving through water confidently. Join us for a fun exploratory session that might even pique your interest in scuba diving in the ocean in the near future!