Have fun learning new skills!
Join our fun-filled Scuba & Circus Day Camp, experience something different, learn new skills, overcome fears, get active, build new friendships, enjoy exciting activities and make lasting childhood memories!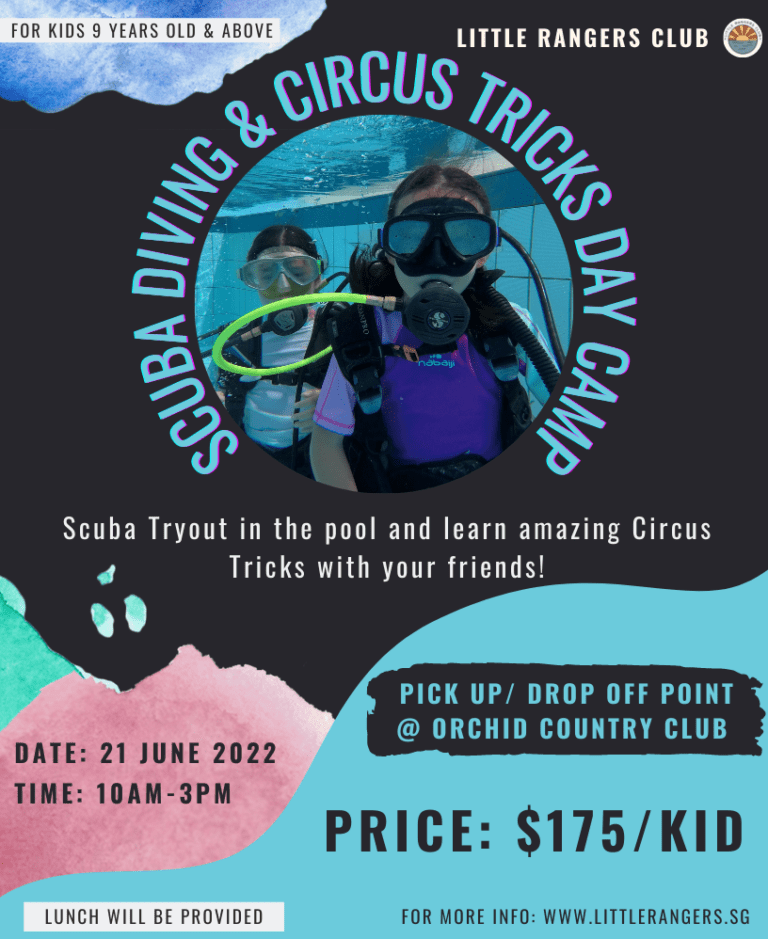 Scuba & Circus Day Camp, 21st June 2022
This special one day only camp is crafted for kids aged 9 years and up! If you've always wanted to try something different and learn a new skill, join us at our Scuba+Circus Day Camp this June and be set for a whole lot of fun!

The pick up and drop off point for our one day camp will be at Orchid Country Club. Parents can drop off their kids at 10am and pick them up again at 3pm. Lunch will be provided.

During this one day Scuba & Circus Camp, kids will get the opportunity to try out scuba diving in a safe and confined environment - the swimming pool. This will help them to slowly get used to breathing underwater using scuba gear as well as build their water confidence and ability to manoeuvre through calm waters. Children will also learn the safety aspects of scuba diving which is crucial to the sport. We believe in getting kids to overcome their fears, step out of their comfort zone and to try something new in a safe and controlled environement.

In the second half of the day, we will learn some fun and cool circus tricks like juggling the diabolo and spinning plates on a stick! Always curious about how these circus tricks work? Well, find out at our day camp as we work on concentration and balancing skills, hand eye coordination and more! We promise you tons of fun, a whole load of laughter and a super memorable day together with your friends!

Our one-day camp is a great way to expose children to new activities and give them the opportunity to learn new skills while building social connections with friends.

Space is limited so sign up quickly to avoid disappointment. Grab your friends and join us for a fun-filled one-day camp experience!

To sign up, drop us an enquiry and our friendly facilitators will assist you in the registration process. See you soon!