International Students' Summer Camps
School's out, Fun's in!
Join our fun-filled Ranger Holiday Camps for International Students, play till your hearts content, learn new skills, go on adventures, connect with nature, build new friendships, enjoy exciting activities and make lasting childhood memories!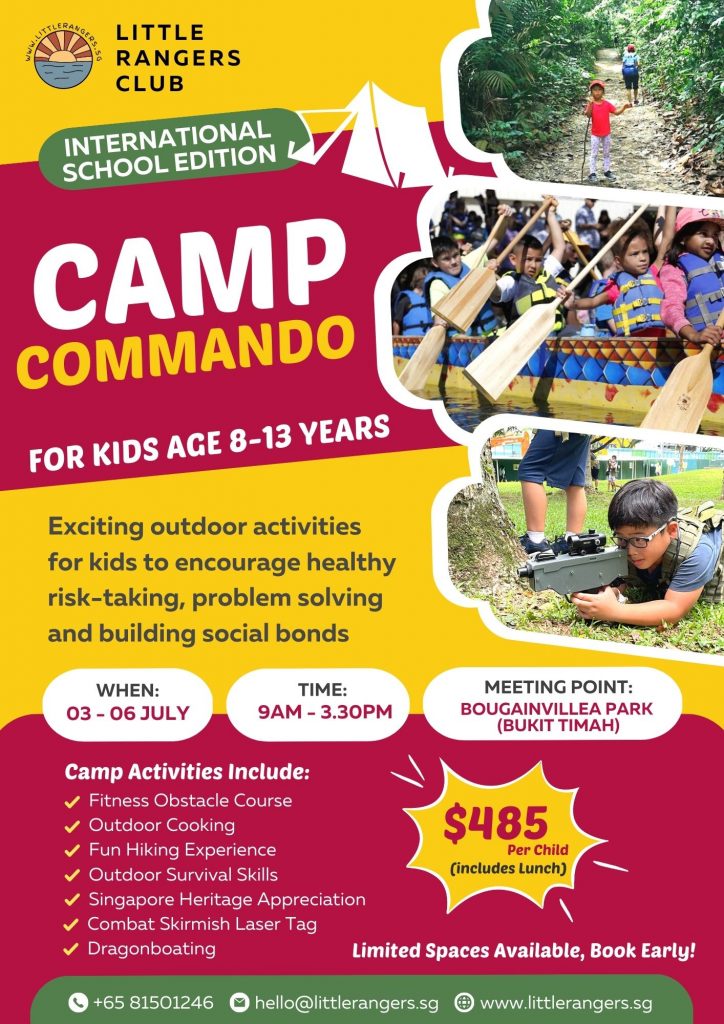 Camp COMMANDO, 3 - 6 July 2023
Calling all kids aged 8 to 13 yrs old! Join us at Camp COMMANDO this Summer Holidays and be set for a whole lot of fun!

We will be meeting in Bougainvillea Park in Bukit Timah every morning, which is just beside "Tan Kah Kee MRT Station". Our July camp meets & dismisses daily at the same location to ease confusion on pick up and drop off locations. Parents can drop off their kids at 9am and pick them up again at 3.30pm. Transport to the various activity locations during camp time is included and lunch will be provided.

This year's Camp COMMANDO, kids will spend their first day at Pasir Ris Park doing various obstacle courses and fun fitness activities. They will pick up fundamental movement skills, build on their fitness and agility, get to pitch their teamwork against other teams in Combat Skirmish Laser Tag in the afternoon!

On Day 2, we will get them on dragonboats to learn the fundamental of paddling and coordination within their team members. After the campers have understood & mastered their basic techniques, it's time for a race. There will be lots of fun and challenge while displaying resilience, endurance and team spirit in the activity.

Day 3, campers will be on foot to navigate through nature trials and learn skills like map reading, knot tying, how to interact with wildlife and many more. They will also get a taste on a soldier's meal (Combat Ration) while they are out in the fields!

On the last day, kids will go easy to discover the various culture & heritage traditions in Singapore. Lots of opportunities on hands-on activities and visiting attractions that educates about our diverse race & culture. Campers will be moving around various spot in Singapore via our public transport system, which we aim to allow them to understand how each of them works and to be able to use the public transport effectively and independently!

Slots are limited so sign up early to avoid disappointment. Grab your friends and join us for the perfect summer holiday camp experience!

To sign up, drop us an enquiry and our friendly facilitators will assist you in the registration process. See you soon!
Camp WOW, 27th-29th June / 10th-12th August 2022
Our Expat Summer Kids Camp is back! This time with new additions and locations, just to make things more convenient for everyone! CAMP WOW has specially designed programmes for kids aged 8 to 13 years old.

We're all about making things convenient for parents. Thus, we will have two different meeting points, depending on which camp you sign up for. Our June camp meets daily at East Coast Park - Raintree Cove to cater to expats living in the East/South and our August camp meets daily at Turf City (outside Hao Mart) to cater to expats living in the West/Central/North. Parents can drop off their kids at 9am and pick them up again at 3.30pm. Transport to the various activity locations during camp time is included and lunch will be provided.

Details are as follows:



Our 3 day camp is specially crafted with a different theme each day so kids get the opportunity to learn a variety of skills and gain different experiences.

On Day 1, we will focus on team work and bonding by starting the camp with our all-time favourite Combat Skirmish Laser Tag. Teams will learn planning and strategising skills as they go against their opponents while honing their aiming & stealth techniques. After lunch, they will learn how to play a game of Tchouk Ball from qualified coaches and team up to pitch their game skills against other opponents.

Get wild and wet on Day 2! Kids will get a first hand experience at scuba tryouts in confined pool waters, with lessons conducted by qualified instructors. We have specifically chosen a pool for our scuba sessions as it offers the safest experience for first-timers! They will learn proper scuba skills, safety rules and how to move with gear on in the water. Second half of the day will involve learning cool circus tricks and balancing acts - something fun and chill for everyone to enjoy!

Finale - Day 3 is Outdoor Survival Skills & Adventure Day! The kids will head to Pulau Ubin and take on a cycling quest to explore the island, learn navigation skills and learn all about nature. They will be taught how to read a map, the basics of starting a fire, cooking a meal and even how to identify edible and poisonous plants on the island. If they're lucky enough, they might even get to encounter wild life and learn how to respect them.

With a camp this fun and full of learning and adventure opportunities for the kids, you gotta register quickly as space is limited and slots get snapped up fast!

Early bird registration is limited and based on a first-come-first-serve basis. So, pull your friends and sign up for camp together!