Fun On Wheels
Private Classes
Are you ready to embark on an exciting journey of adventure and skill-building? Look no further than the Little Rangers Club, where we bring the thrill of wheels to your child's fingertips! Our specialized private classes are designed to introduce kids to the joy of moving on wheels while ensuring a safe and enjoyable learning experience.
Cycling Adventures
Beginner Level Cycling:
We believe in starting strong! Our beginner cycling classes lay the foundation for a lifelong love of cycling. Through interactive lessons and hands-on practice, your child will learn essential cycling techniques, balance, and coordination.

Defensive Cycling:
Safety comes first! In this module, we focus on equipping young cyclists with the knowledge and skills to navigate their surroundings confidently. From understanding traffic rules to mastering defensive maneuvers, your child will gain the confidence to pedal through any situation safely.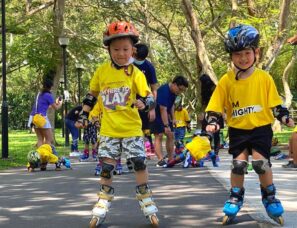 Rollerblading Adventures
Learn to Blade:
It's time to roll into fun! Our beginner's rollerblading classes are perfect for kids eager to glide for the first time. Our experienced instructors will guide them step by step, teaching proper stance, balance, and basic moves.

Master Blading Tricks:
Once your child has grasped the basics, it's time to level up! Our master classes introduce advanced techniques that add a touch of excitement to rollerblading. From spins to stylish footwork, your little blader will amaze friends and family with newfound skills.


Benefits of Private Classes:
Expert Instructors – Our skilled instructors bring years of experience and a passion for teaching kids the art of cycling and rollerblading.

Personalized Learning –  With private classes, your child receives focused attention, allowing for quicker progress and skill mastery.

Safety First – We provide all safety equipment, and our lessons include essential safety tips and practices to ensure worry-free learning.

Building Confidence – Beyond the physical skills, our classes foster confidence, independence, and a sense of achievement in every young kid.
Embark on a thrilling adventure of wheels! Whether they're a complete beginner or looking to enhance their existing skills, our private classes cater to all levels of experience. Watch your child's face light up with excitement as they pedal and glide their way to newfound confidence and fun.
Contact us today to learn more about class schedules, pricing. Let's roll into a world of excitement, skill, and laughter together!